Some of the most current news on castAR.
If you're a member of the Press and would like to talk to us, please email press@castAR.com.
by Caleb Kraft – Make:
18 December, 2015
"I can't think of a more elegant way to handle this situation."

by Rachel Weber – gamesindustry.biz
16 December, 2015
"We want to do right by our Backers and think that this is the right way to do that."
by Michael LeSauvage – Geek Dad
28 October, 2015
"There are so many uses I can imagine for this technology, but the one that excites the GeekDad in me most are shared board game experiences. Gaming should be more natural than with virtual reality as you can still see the real people who are sitting at the table with you."
by Danielle Muoio – TECH Insider
15 October, 2015
"People who wear castAR glasses can do anything from attacking giant robots to pulling up YouTube videos midair."
by toast4321 – Geeks of Doom
9 October, 2015
"Throughout its inception [castAR's] underlying goal has been to develop something that is fun, and after demoing it, I can tell you that that goal holds true."
by Steve Peterson – [a]list daily
7 October, 2015
"Major [AR] competitors include Microsoft's HoloLens (with development kits to be made available early next year for $3,000) and the still-mysterious Magic Leap… On a smaller scale, yet perhaps closer to market, is the hardware from CastAR…"
by Rachel Weber – GamesIndusdry.biz
5 October, 2015
"We're going to get my father, we're going to get people who are 40 years old, mothers, children that are eight years old crushing things with Tonka Trucks."
by Ahmed Ali Akbar & Bryant Hua – BuzzFeed
16 September, 2015
"It very much felt like an old-school gaming experience taken to the next immersive level… way more realistic for a consumer than [HTC Vive and Oculus Rift], imo."
by Deus Qain – Tek Syndicate
3 September, 2015
by Patrick Stone – Gamers Nexus
31 August, 2015
"After experiencing the demo, one of my first use case thoughts was, "can this be used to layout and play a D&D campaign?" Johnson's reply was a simple, 'Yes.'"
by Andrew Terranova – Make:
25 August, 2015
"This infusion of money will let us move faster."
by Robert Nazarian – Business Insider
24 August, 2015
"Playground Global will fund the company to the tune of $15 million in order to "drive forward business and continue product development efforts" leading up to a planned 2016 commercial launch."
by Ben Lang – Road to VR
20 August, 2015
"CastAR says their newly announced investment will not only help them fulfill their Kickstarter commitments for development kits of their AR glasses, but also take them toward a full commercial launch of the product."
by Rachel Weber – gamesindusdry.biz
19 August, 2015
"After experiencing the demo, one of my first use case thoughts was, "can this be used to layout and play a D&D campaign?" Johnson's reply was a simple, 'Yes.'"
by Lizzete Chapman – Wall Street Journal
19 August, 2015
"With seasoned veterans from gaming company Valve Software, the startup has built a working model of the glasses, a reflective play surface and six games, including a marble run and light saber challenge. Players don the clear glasses, which weigh about as much as a large apple and have dual projectors and dual cameras built into the frames."
by Erik Johnson – re/code
19 August, 2015
"Everyone talks about games being 'high-resolution' or 'eye-popping,'" [castAR CEO David Henkel-Wallace] said. "What happened to the word 'fun'? It's a central tenet for us. We're just having fun, and we think our customers will, too."
by Dean Takahashi – GamesBeat
19 August, 2015
"But Rubin's investment brings a very important ally into CastAR's camp, as Rubin has a lot of money as well as a ton of connections in the tech world."
by Ben Lang – Road to VR
19 August, 2015
"Playground Global is really focused on hardware, they're highly operational. They match with us in terms of a great engineering network and resources. The whole point of the investment is to accelerate our engineering process and build a great product."
by Alex Wawro – Gamasutra
19 August, 2015
"Based on feedback and what we've learned from our own research, we plan to ship next generation hardware to all our backers and any interested developers starting early next year."
by Eric David – siliconANGEL
19 August, 2015
"This money really marks an inflection point from being just a raw startup to actually allowing us to become a really fully functioning company."
by Dean Takahashi – GamesBeat
11 May, 2015
"Bushnell: I've been for the next platform. There's a company called castAR which I think has the best opportunity for the next big thing.
GamesBeat: Jeri Ellsworth's company.
Bushnell: Don't you love Jeri? She used to be at all the hacker's conferences. You just know that the tech is sound."
by Brian Benchoff – HackADay
5 April, 2015
"Now, one of the two people we trust to do a proper teardown finally got his developer version of the castAR."
Open Source Virtual Reality (OSVR)
4 March, 2015
"Leading interactive entertainment company Ubisoft®, as well as five new HMD Manufacturers, including Vuzix and Technical Illusions [castAR], will be supporting the OSVR movement."
by Brendan Sinclair – GamesIndustry.biz
24 February, 21015
"…Technical Illusions' effort has its own competitive advantages to leverage against Microsoft. For one, developers are already working with the hardware."
by Adario Strange – Mashable
23 February, 2015
"…Just a few years ago such a production would have been labeled as a "concept" video for imagined products, rather than as a promotion for a real device."
by Darren Orf – Gizmodo
22 February, 2015
"…So the experience isn't a motion sickness nightmare."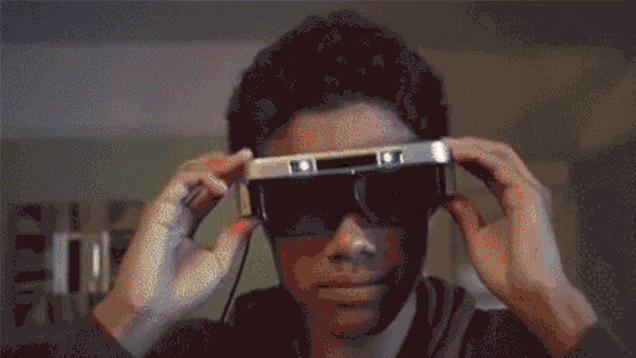 by Nicole Lee – Engadget
21 February, 2015
"As far as they've come however, the technology behind castAR is still rather hard to describe — it's not virtual reality like the Oculus Rift, and it's not "normal" augmented reality like Google Glass (though castAR does sell optional clip-ons that'll change it into a VR or normal AR headset if you like). Thankfully, the Technical Illusions folks have just rolled out a new video that shows off what exactly castAR can do."
by Timothy B. Lee – VOX
25 January, 2015
"But HoloLens and its competitor CastAR are a little different. They're "augmented reality" glasses, not "virtual reality" glasses."
by Mike Szczys – HackADay
12 January, 2015
"castAR is exactly the type of Virtual Reality hardware I've been longing for."
by Paul James – Road to VR
9 January, 2015
"The pair were upbeat about where the product is headed, with aesthetic changes and weight shavings (a target of 85g) improving fit and finish and improving user experience. On the software side, they've achieved Unity integration and have plans for a software sharing platform, where developers can show off their projects."
by Donna Tam – CNET
7 January, 2015
"You have to get people in the glasses so they can walk around and see it. Until you do that, no words can describe it," said Jeri Ellsworth, the inventor of CastAR, a pair of augmented reality glasses, and co-founder of Technical Illusions."
CES 2015 SuperSession panel discussion – CNET
6 January, 2015
"Join CNET superstars Brian Cooley, Tim Stevens and a panel of luminaries discussing the exciting future of virtual and augmented reality. How will these technologies impact gaming? Driving? Entertainment?  Life? We explore the imminent change VR and AR will bring."
by Mariella Moon – Engadget
23 November, 2014
"The castAR team has just shipped its first pair of augmented reality glasses, a year after it raised $1 million on Kickstarter."
by Nicole Lee – Engadget
17 October, 2014
"I'm so excited making the move down there, although it's going to be a tremendous amount of work," said Ellsworth. The biggest logistical problem? Moving down her collection of 80-plus pinball machines. "I'm trying to encourage David to do a big fundraising round so that we can put most of my machines in the office," she said jokingly. "We'll have a pinball parlor."
"An augmented reality pinball parlor," Henkel-Wallace added, laughing. "That's what we'll have."
by Dean Takahashi – GamesBeat
7 October, 2014
"I played a demo on the castAR, and it worked beautifully. In a demo inspired by the old Marble Madness game, I was able to move around a marble through a landscape by tilting my head. I found it very easy to control things in the virtual world, but I could also see everything happening around me the because the glasses don't obstruct your view of the real world."
by Boyd Farrrow – United's Hemispheres Magazine
September 2014
"…Hard-core techies—the "I was talking about that ages ago" crowd—are frothing about products like castAR, 3-D virtual reality glasses that may or may not challenge Oculus Rift on the experience side of things, but are definitely giving it a run for its money in terms of the kids being down with it."
by Laura Cochrane – Make:
31 May, 2014
by James Hobson – Hack a Day
23 May, 2014
by  Fritz Nelson and Marcus Yam – Tom's Hardware
30 April, 2014
by Todd Bishop – GeekWire Radio
12 April, 2014
by Marcus Yam – Tom's Hardware
28 March, 2014
by Nicole Lee – Engadget
28 March, 2014
by Nicole Lee – Engadget
20 March, 2014
By Alex Davies – Tom's Hardware
27 February, 2014
By Dean Takahashi – VentureBeat/GamesBeat
2 February, 2014
By Jan Goetgeluk (@virtuixomni), Founder and CEO, Virtuix (developer of the Virtuix Omni)
19 January, 2014: Virtual reality, or VR, is finally ready to become an integral part of the home entertainment ecosystem.
By Carolyn McDowell January 13, 2014
"During our meeting with Jeri Ellsworth and Rich Johnson, founders of Technical Illusions, it became clear they're passionate about what they've created."
""CastAR is amazing tech, and I think it needs a killer app. The tabletop gaming/D&D crowd will LOVE this. Also, Rick showed a desktop proof of concept demo that was really cool."
castAR: bridging the physical world with the virtual worlds; 3D holographic like projections in AR, fully immersive environments in VR.
by Ben Lang
CastAR, the unique AR/VR gaming headset coming from Technical Illusions, made an appearance behind closed doors at CES 2014. Road to VR is the first to go hands-on with the latest HD prototype.
Posted by NerdyShow on December 29, 2013
We proudly present our 5th annual Top 20 Nerdy Things list! "In the past few years we've seen augmented reality (AR) games gain popularity. However, we had yet to see a true AR solution outside of handheld gaming systems such as the 3DS and PSP. This year, CastAR brought us into the future with the first true augmented and virtual reality gaming system available for purchase"
Crowdfunding and 3D Printing
"The first we'll examine is the least related to 3D printing though it does have connotations for the potential for 3D modelling. The castAR system is a headset inspired by a holographic game of chess on Star Wars. Bridging the physical world with the virtual worlds with 3D holographic like projections in AR, the headset was initially built for gaming but many have pointed out how this could be used to model items in a virtual 3D environment like a relative Tony Stark"
25 People that changed games in 2013
"The duo launched a Kickstarter in October with a target of $400,00, which it reached within a matter of days. The campaign finished in November, having raised an impressive total of over $1m. While not quite heralded like the Oculus, Ellsworth's tech could have a major impact on the augmented reality market for years to come, and should not be underestimated."
Kickstarter millionaires' club: 11 projects that raised more than $1M in 2013
December 17, 2013 By Cathy
"As a non-gamer, this is pretty hard to explain, so it is better to watch the video. Apparently it bridges the gap between the real world and the virtual reality world. This is what they say:"
Until the day before yesterday, it was the toast of the gaming hardware world: today, John Carmack's illustrious involvement notwithstanding, maybe the Rift is just toast. – See more at: http://www.iijiij.com/2013/10/17/alas-poor-oculus-i-knew-you-well-016017#sthash.lN0rid9N.dpuf
I managed to demo the Unity Live demo Angry Bots as well as Star Wars Chess. The crew at Technical Illusions mentioned that they had the Angry Bots demo up and running in under five minutes, which speaks volumes to the agility of their product.
November 27, 2013 | By Christian Nutt
"I was always envisioning Left4Dead by having a supplemental game mode where I could see the entire level laid out on the table while my friends were playing the game as the survivors in first person mode. I would then take over the role as the director. By using the Magic Wand, I could circle out where a horde of zombies should attack from. Or I could use the wand to point a location that the special infected should ambush the players."
Tycho @TychoBrahe Wed, 11/13/13
"We had a chance to see castAR here in the office, and it is weirdly good. As in, it is real and does what they say it does – but the amount of headroom in their technology for applications we can't conceive of at this particular moment is vast. There's only a day or so left in their Kickstarter. You should go check it out."
by Paul James
"CastAR's campaign was a textbook example on how you should do it. As a result, the campaign's progress has been swift to raise funds:"
"Sony will launch its much-anticipated PlayStation 4 in North America tonight at midnight, but it may not be the most significant event in gaming to happen that hour. Right as stores in Newfoundland get the greenlight to sell the new console, the Kickstarter campaign for the CastAR augmented reality and virtual reality system will be funded. As of this morning, the campaign had drawn a little over $920,000 in support, more than twice the original backing goal of $400,000. GamesIndustry International recently spoke with Technical Illusions' Rick Johnson to talk about changing perceptions of augmented reality, and how he and CastAR co-creator Jeri Ellsworth plan to get people using their new tech."
While the virtual reality headset seemed to go the way of the beeper in 1990s, updated takes on that technology have emerged that could make a big impact on the way players view virtual worlds in the future. Google Glass, Oculus Rift and CastAR are already giving early adopters a peek at images in 3D or projected in real life — all without a TV screen.
The CastAR has quickly turned into a "Swiss Army" headset of sorts, offering various means of augmented and virtual reality immersion across several different mediums; the headset can be used for gaming, for alternative medical studies, and a flight-simulator just to name a few. Over the weekend, the Kickstarter campaign surpassed $700,000, meaning yet another feature will be added to the device- the ability to project movies onto the retro-reflective surface, or watch in a widescreen format with the AR/VR attachments.
Eyes-on the CastAR, augmented-reality glasses built by former Valve engineers
"It's a small but critical difference. The CastAR glasses are much less nauseating than the Rift dev kit, because you can see objects in the real world and thus maintain your balance and equilibrium while you're moving your head around. Ellsworth and Johnson built these glasses to play 3D games without throwing up in the process, but after putting the prototype through its paces I think this hardware has the potential to change the way we look at spreadsheets, web browsers, and all kinds of software beyond the gaming sphere."
Posted Nov 5 2013 by Dylan Zellmer
"I managed to demo the Unity Live demo Angry Bots as well as Star Wars Chess. The crew at Technical Illusions mentioned that they had the Angry Bots demo up and running in under five minutes, which speaks volumes to the agility of their product."
Max Maxfield, Designline Editor
"castAR not only does VR (and apparently with less distortion than the Oculus), but also projects 3D video, so that users see holographic 3D images in front of them. Their unique tracking system lets these images remain in place with respect to the world, while the user is free to move around (with six degrees of freedom.)"
"Back in my day we had sticks. Two sticks and a rock for the whole platoon — and we had to share the rock!
The world of augmented reality continues to grow and evolve as more and more players throw in their ideas and inventions into the market. Today we're going to highlight a system that many of us here at Metaio are excited to see in action: castAR by Technical Illusions."
By Jeffrey Matulef Published Thursday, 31 October 2013
"We can do everything Oculus can do and more," claims ex-Valve inventor Jeri Ellsworth as she tells me about her upcoming CastAR headset over Skype.
That's a bold claim, but Ellsworth and her software programming colleague Rick Johnson (also a former Valve staffer) at Technical Illusions are confident that they can deliver the same experience as the Oculus Rift, only better, in addition to a host of other potentially revolutionary features.
[hana-flv-player video="http://www.ign.com/videos/2013/10/23/castar-headset-impressions" width="400″ description="" player="5″ autoload="true" autoplay="false" loop="false" autorewind="true" /]
By Colin Campbell on Oct 22, 2013 at 9:15a @ColinCampbellx
"I live for this," said Ellsworth. "I have done very boring video compression work in the past and I don't feel really good about it. But this is one of these projects that, from day one, people say, 'oh wow, this is incredible.' That means we are really pushing the boundaries."
Alexia Chianis | October 23rd, 2013
"Why We Like It
With the goal of connecting the physical world with the virtual world, the projected augmented reality system castAR is earning an amazing reputation for performance. In fact, in addition to a slew of positive press, the 3D augmented reality gaming system was honored with Educator's and Editor's Choice ribbons at the 2013 Bay Area Maker Faire."
Posted by Cabe Atwell on Oct 18, 2013 3:04:37 PM
"Augmented and virtual reality headwear has risen in popularity ever since Google Glass and the Oculus Rift hit the market. Those glasses and head-mounted displays either overlay interactive applications on the direct or indirect environment being viewed or create a computer-generated environment putting its user in that simulated world. Those two perspectives are usually separate from each other and integrated into a single design rather than both being on the same device. This is usually do to the fact there is too much hardware involved to be packed into a small space, however one company has seemingly managed to incorporate both AR and VR applications into a simple pair of glasses. Just 20 hours after posting their proposition on Kickstarter, Technical Illusions reached their funding goal of $400,000 for their castAR AR & VR system."
local news
"This week, the NSA most likely has your address book & contacts, Google's new terms of service put you in their ads, your Playstation 4 may be made by unpaid interns, Netflix on your cable box, former Valve employees launch Augmented Reality goggles, and Apple's spaceship gets clearance to land in Cupertino. All this and more"
"Technical Illusions, the company made by former Valve employees Jeri Ellsworth and Rick Johnson, has already sent an update with a list of significant stretch goals for the device. Both of the goals are based on certain demo concepts displayed in the company's video trailer."
"As you can see by the video above, the CastAR system solves three problems that may hinder the Oculus Rift from going mass market: The headset is significantly less heavy and bulky, while the imagery is projected on a surface in front of you, as opposed to being on a display screen right up against your eyeballs. This addresses the awkwardness some people feel with being so close to a VR headset display; CastAR's tracking system also seems to fix the "seasick" effect associated with all VR systems:"
[hana-flv-player video="http://www.gametrailers.com/shows/screwattack-s-hard-news" width="400″ description="" player="5″ autoload="true" autoplay="false" loop="false" autorewind="true" /]
Ian Birnbaum at 07:05pm October 16 2013
"Like all the really great things in geekdom, it began with Star Wars. Former Valve employees Jeri Ellsworth and Rick Johnson have come up with a way to bring that holoprojected chess match between R2D2 and Chewbacca, Dejarik, a reality, and the solution is castAR: augmented reality projecting glasses. After 18 months of prototyping, Ellsworth and Johnson have launched a Kickstarter campaign to finish production."
17 October 13 by Philippa Warr
"what with the castAR augmented reality glasses project already sailing past its Kickstarter target with 29 days left on the clock attention has turned to the stretch goals for the tech.Jeri Ellsworth and Rick Johnson noticed that the part of the project getting the most attention was the potential for the glasses to be used for augmented tabletop gaming experience"
October 17, 2013 By Gord McLeod
"Augmented Reality just got a lot more augmented and a lot more comfortable. Technical Illusions, the latest company to spring from the efforts of Jeri Ellsworth, has just launched the CastAR Kickstarter project to bring their long string of prototype AR/VR hardware out of the lab and into production. CastAR is really a set of related technologies. The core system is a pair of glasses with a pair of 720p, 120 mhz projectors mounted above the eyes."
Triangulation
http://twit.tv/show/triangulation/124
"It began with one of those 'Eureka' moments," the team said. "Around May of 2012, Jeri was (as usual) working in Valve Software's hardware lab late at night. She was doing some experiments with a projector and saw an unexpected flash of light on the opposite side of the room. She observed that when the projector shone on to a particular surface, it produced an extremely bright flash as light reflected back."
Luke Plunkett 10/14/13 11:30pm
"While there are obviously multiple applications for augmented reality tech, given their background the pair are aiming these mostly at gamers.
They're asking for $400,000. Which sounds like a lot, but first, this is hardware, and second, after less than a day they're over halfway there"
"CastAR is a bit different from the Occulus Rift though, as it's more along the lines of an augmented reality experience (which we've seen a primitive version of with the 3DS). On the team's Kickstarter page, you can watch a video, and it's pretty impressive technology. Also, unlike the Occulus and other VR headsets, it's done with a small, lightweight set of glasses and projectors, making it much less bulky. The video shows off everything from traditional flight combat to Skylanders-style RF figurines to a online, connected game of table-top Dungeons & Dragons enhanced with real-time graphics. The unit is being developed by designer Jeri Ellsworth and Rick Johnson, a former developer at Raven and Valve."
Mark Frauenfelder at 12:25 pm Tue, Oct 15, 2013
"Launched just hours ago on Kickstarter, the castAR virtual reality headset has already received over $300k and will reach its goal of $400k very soon. It was developed by Jeri Ellsworth and Rick Johnson. Below, Jeri tells the story of the making of the castAR."
[hana-flv-player video="http://revision3.com/tekzilla/cast-ar-vr-demo" width="400″ description="" player="5″ autoload="true" autoplay="false" loop="false" autorewind="true" /]
"The promise of castAR is a holographic display system, inspired (as all good ideas are) by science fiction:
Star Wars: Episode IV – A New Hope sparked our imaginations of what might be possible in the future by showing R2-D2 and Chewbacca playing a holographic 3D chess-style game. It has taken nearly 35 years since the film was released for this technological dream to come to reality, but with castAR, that reality can be yours."
"In addition to the motion-tracking Magic Wand controller and the RFID Tracking Grid — used to digitally track the movements of physical objects on a game board — Technical Illusions has announced an attachment that clips on to the front of the CastAR glasses to provide a fully immersive virtual reality experience similar to the Oculus Rift headset. The project is currently seeking funding on Kickstarter, and is projected to ship in September 2014."
By Nathan Grayson on October 15th, 2013 at 9:00 am
"Once upon a time, Valve was working on a set of future glasses so potent that their impossible fever dream visions would spill onto our tables and floors, like imagination made real. But then they decided that Oculus Rift was more their speed, and the mighty mega-brains in people costumes attached to the project, Jeri Ellsworth and Rick Johnson, were let go. The duo, however, decided to treat getting laid off as a slight bump in the road, with the re-christened CastAR resurfacing at Maker Faire earlier this year. And now, as is the natural way of all things that walk this Earth, the AR and VR glasses have gone to Kickstarter."
NCIX.com
By Alexa Ray Corriea on Oct 14, 2013 at 12:00p @AlexaRayC
"The castAR also offers several options for potential developers. A castAR software development kit allows access to tracking data and rendering matrixes, as well as Unity integration. Developers purchasing the castAR will also receive a set of game demos. The page adds that support for other engines and existing VR applications is currently being discussed."
By: Charles Gantt | Gaming News
"To summarize a long story, Jeri stumbled across a neat effect using special image projection glasses and a sheet of retro reflective material. When combined, the two pieces of technology created a beautiful holographic gaming experience that does not cause headaches from eye strain. Jeri said that she had a hard time selling the new discovery to Valve as they did not see how this could fit into the types of games they were developing. "
"Jeri, Rick and the Technical Illusions crew] have taken the castAR to Kickstarter. We've covered castAR a couple of times in the past, but the Kickstarter includes a few new features just ripe for the hacking. First, castAR is no longer confined to a retro-reflective surface. In fact, it's no longer confined to augmented reality. An optional clip on adapter converts castAR into a "free" augmented reality or a full virtual reality system."
"The ambitious CastAR glasses are now backable on Kickstarter, and come from the minds of two ex-Valve employees. The glasses work in augmented reality mode by projecting images onto a highly reflective surface, which then results in what looks to be 3D objects right in front of you. Thanks to this, and a precise built-in tracking system, you can move around a room while still enjoying the 3D effects, and it can even support several people with additional headsets. Who needs the Nintendo 3DS' AR mini games now?'
Discussion in 'HTL Articles' started by Syrin, Today at 5:02 AM.
"It's a technology involving some novel ideas about 3D glasses, head tracking and providing comfort to people already wearing prescription glasses all coming together into a single AR/VR device capable of providing high-quality, high-fidelity 3D imagery that is compatible with a wide range of devices, can be adapted for any form of software out there and, most importantly, is very compact in and of itself."
Chris Burns, Oct 14th 2013
"There's a team of creators out in the wild this week showing off a pair of augmented reality / virtual reality glasses called castAR, a pair of glasses that's set to make Star Wars a reality. The inspiration for this wearable piece of technology comes directly from the first Star Wars movie, A New Hope, in a scene where the droids are playing a 3D chess game with Chewbacca. In this scene, the pieces for the chess game, (called a Djarik hologame, for you hardcore nerds), are standing projected above the board in 3D – this inspiration pushed the creators of castAR to make a pair of glasses that uses a mix of augmented reality and projection to make a whole new environment for the user."
Posted on October 14, 2013 4:41 PM by Rob Williams
"We talked a bit about 'castAR' earlier this year, when it became known that two former Valve employees were given free rein with the project after being laid-off, and now, we're being given the opportunity to help fund the project. Not surprisingly, Kickstarter is being used as the funding platform, and what also might not be that surprising is just how fast it's reaching its goal.
Despite having launched just today, castAR's pledges are sitting at $171,000 (as of the time of writing) – almost half of its $400,000 goal. I think it's safe to say that this is one Kickstarter that's going to be funded rather quickly."
 • Story by Jeremy Peel
"If castAR sounds like a forgotten fourth announcement from Valve's week-long unveiling of Steam's next decade, you'll feel rightfully smug to discover that hardware engineer Jeri Ellsworth and Linux programmer Rick Johnson were part of Gabe's hardware division until layoffs in February. When they left Valve's Bellevue studio, the duo took a pair of prototype augmented reality glasses with them – and eight months later they've balanced them on the nose of Kickstarter, like novelty magic spectacles."
"We are truly standing on the precipice of a cyberpunk future, and I, for one, welcome our new technocratic overlords who are promising to bring us augmented- and virtual-reality vision.
By Tim Colwill on October 15, 2013 at 9:07 am
"Their product is now formally known as castAR, and has already raised $196,937 of its $400,000 goal in less than 24 hours, with many spurred on by the immediate example of the holographic chess from Star Wars: Episode IV."
"The Oculus Rift will meet some stiff competition if CastAR's augmented glasses seem as good as it's hyped up to be."
13:45, 15 октября 2013
"Бывшие инженеры компании Valve Джери Элсворт и Рик Джонсон попросили у геймеров деньги на очки дополненной и виртуальной реальности CastAR. 14 октября они инициировали соответствующую кампанию на сайте Kicktarter."
15 October 13 by Philippa Warr
"The project began in May 2012 while Ellsworth and Ryan were still working at Valve and resulted in a prototype known as the head crab (we see what they did there) because it was large and painfully heavy. Ellsworth took care of the hardware side of things while Johnson came up with the prototyping system to create and test AR experiences."
TJ McCue, Contributor
"Name your reality view and castAR can probably help you with it. From gaming to flight simulator training, this new pair of glasses from startup Technical Illusions will help you see and interact in three dimensions."
October 14, 2013 – GamePolitcs Staff
"The device also uses head-tracking technology so that the scene moves with you in real-time, and the devices also comes with a joystick wand that allows you to interact with what you see in front of you.
There's already a prototype of the device, but with the additional funds they hope to refine and improve the design. To get the device you'll have to commit to at least $189, though there are lower tiers if you are more interested in just funding the project":
By Kyle Lowe | Oct 14, 2013 | 1:32 pm | Permalink
"The CastAR is demoed playing a Dungeons & Dragons game but the glasses are primarily being marketed as an augmented reality device for a multitude of applications. Best of all, it won't be very expensive. The basic headset is being sold for $189 including a reflective board, which is required for use. Check out the Kickstarter page to learn more about this still-evolving technology."
"Star Wars: Episode 4 — A New Hope sparked our imaginations of what might be possible in the future by showing R2-D2 and Chewbacca playing a holographic 3D chess-style game," reads the campaign page. "It has taken nearly 35 years since the film was released for this technological dream to come to reality, but with castAR, that reality can be yours."
October 14, 2013 | By Kris Graft
"Ellsworth says the possibilities for the device go beyond games, and may extend to data visualization and education. "If you really wanted to go crazy, you could even turn your entire room into a Holodeck," she said in the Kickstarter video (above)."
"Augmented reality glasses from the minds of two ex-Valve employees have made their way to Kickstarter. The duo's product, the CastAR glasses, augment their wearer's vision by projecting images onto a highly reflective surface, resulting in what looks to be 3D objects right within the real world. Through their new company, Technical Illusions, the pair is looking to raise $400,000 to finish development of the glasses, over $60,000 of which they've raised since launching the campaign earlier today."
"One use-case is the popular table-top role playing game Dungeons and Dragons. Using simple play pieces or 'stamps', the Dungeon Master can quickly create a new map and then play with other enthusiasts – either locally or online. The potential implementations are vast though; 3D design and data vizualization are two immediate use-cases that spring to mind."
Mon 14 Oct 2013 2:44pm GMT / 10:44am EDT / 7:44am PDT-Brendan Sinclair
"An abandoned piece of Valve hardware may yet find its way to market. Technical Illusions today launched a Kickstarter campaign for the castAR glasses, a virtual reality and augmented reality system that co-founders Jeri Ellsworth and Rick Johnson had been working toward during their previous jobs at Valve."
"The idea behind the high-tech glasses is fairly novel and while still in the early stage of development, they definitely have a chance to change the way we think about playing video games"
By Nicole Lee posted Oct 14th, 2013 at 10:01 AM
""This whole project has been driven by just Jeri and myself," said Johnson. "We worked every day of this year, five to six days, 14 to 16 hour days. Our resources between the two of us are stretched thin." However, the two believe they have something special, and that the future is bright for the technology."
By

Robert Purchese
P

ublished Monday, 14 October 2013

"CastAR becomes VR when you clip an additional attachment over the top. "With this component, you will have no need for any other head mounted display," the blurb reads – a sure dig into Oculus Rift's ribs."
We had some international coverage
Turkey:
"Ünlü oyun firması Valve'ın geçtiğimiz dönem işten çıkarttığı eski donanım mühendisi Jeri Ellsworth ve programcı Rick Johnson tarafından kurulan Technical Illusions isimli şirket, arttırılmış gerçeklik dünyasına CastAR isimli yeni bir model eklemek için çalışmalar yürütüyor."
http://www.donanimhaber.com/diger-bilim-ve-teknoloji/haberleri/iki-eski-Valve-calisanindan-yeni-bir-arttirilmis-gerceklik-gozlugu-CastAR.htm
and France:
"Comme il est indiqué sur le site technicalillusions.com le système inclut également une surface rétro-réfléchissante. Les deux micro-projecteurs (un pour chaque oeil) y produisent une image stéréoscopique avec un taux de rafraîchissement de 120 hertz ! La définition de l'image est de 720p. Des détecteurs infrarouges sont couplés au système pour mesurer les mouvements avec une grande précision . Les constructeurs parlent de 0.07mm … De quoi faire des tâches extrêmement précises !"
CastAR un système innovant de lunettes de réalité augmentée par Technical Illusions
http://www.youtube.com/watch?v=zIJlw4qBCms
Maker Faire 2013: Hands On With the CastAR Augmented Reality System

Caleb Kraft, Chief Community Editor
9/22/2013 07:10 AM EDT
http://www.eetimes.com/author.asp?section_id=36&doc_id=1319568
"I really can't wait to see how this tech evolves. The already impressive display is, as you can see in the video, only a rough prototype!"

By Heidi Hoopes
September 23, 2013
"Imagine a multi-user augmented reality experience that feels natural and can scale to any size you want, without common pitfalls like dizziness or an expensive price tag. That's what hardware hacker Jeri Ellsworth and her team at Technical Illusions are shooting for with CastAR. Gizmag snatched a chance to play with the system at World Maker Faire 2013, where it won the Editor's Choice and Educator's Choice awards."

By Kimber Streams on September 23, 2013
"I had the opportunity to test out the CastAR prototype at World Maker Faire 2013 in New York City with two different demos — a Jenga-like simulation that involved knocking blocks over using the prototype USB wand and AngryBots, a top-down third person shooter demo for Unity played with a standard Xbox controller. The CastAR prototype glasses fit easily over my prescription glasses, adding only a little additional weight (about 350grams) to the bridge of my nose, and the heat from the FPGA emulator chip sitting atop the frames was noticeable, but not uncomfortable
The Verge plays castAR
"One of those departures was Jeri Ellsworth, an electrical engineer with a penchant for designing computer processors in her free time. She and fellow ex-Valve employee Rick Johnson joined up after leaving the company, forming Technical Illusions.
And in May, they unveiled the CastAR, a pair of polarized sunglasses with a projector mounted on each side, and a camera in the middle. Using a piece of reflective fabric laid at a 90-degree angle, such as on a chair, the person wearing the CastAR can project a 3D image in front of him or herself.
The image can then be manipulated with either a special device or the human hand. Ellsworth and Johnson claim to have achieved accuracy of .07 millimeters at 3 meters' distance from the US$10 cell-phone camera part they're using.
But with all this innovation comes a central question: How do you even design software to take advantage of this and other new interface paradigms?"
Maker Faire Interview with Jeri and Rick 2013
"Fledgling Seattle based company Technical Illusions announced their first product a few months ago called the castAR. The castAR is a augmented reality based gaming system.
The prototype of the product has already made its way to Maker Faire which was held this past May. Below is a video of it being used by Will and Norm from Tested.
They are talking about potentially starting a Kickstarter Campaign this summer for the castAR.
Technical Illusions was co-founded by Jeri Ellsworth and Rick Johnson in March of 2013. You can stay up-to-date by following the Technical Illusions Facebook Page."
more here: (http://makerstage.com/tag/castar/)
Discussion in 'HTL Articles' started by Noelemahc, Jul 8, 2013.
Anyone with an imagination can see this being used for gaming, record keeping, architecture, art, and tons of things I have not listed. The possibilities are exciting.Want to play D&D with a prebuilt map and put your actual minis on the board? You can. You can also walk around that pad, lean over and look inside the trees and walls and see detail extremely realistically. Currently, there is a version of a destructive Jenga game and a Minecraft simulator where you can use a "wand" to interact with the board and magically smash, lift and build components. The array of infrared LEDs embedded in the reflective surface of the pad allow for accurate and quick head tracking, letting you experience this 3D in a very real way, even to the point of seeing a never ending pit that the blocks fall into when you toss them. The first reaction of visitors who tried the glasses on at Maker Faire was an overwhelming "wow," which sums up the experience for me as well.
[hana-flv-player video="http://www.twitch.tv/jenesee/c/2488434″ width="400″ description="" player="5″ autoload="true" autoplay="false" loop="false" autorewind="true" /]